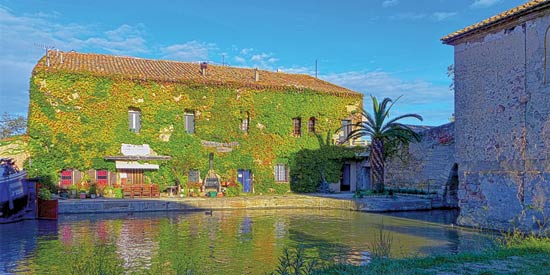 Le Somail sits astride the Canal du Midi, at the junction of three communes, Ginestas, Saint Nazaire, and Salleles d'Aude. This charming French village owes it's existence to the canal, as it was founded in the 17th century to serve those who operated and worked on the
peniches
that were a major form of commercial transport at the time. Today Le Somail serves the tourist industry, with some of those same classic
peniches
, converted into luxury boutique hotel barges, bringing their passengers for a lovely afternoon visit or overnight mooring.
Many of the structures in Le Somail are listed as
Monuments Historiques
in the
Base Mérimée
, a database of architectural heritage maintained by the French Ministry of Culture. Included are the 17th Century stone bridge over the canal, the chapel that sits next to it, and
la glacière
(the ice house).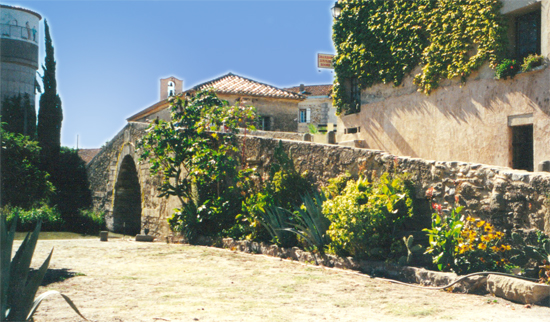 | | |
| --- | --- |
| La Chapelle de Le Somail | La glacière |
For anyone with a love of books, or vintage things in general,
Le Trouve Tout du Livre
is a 'can't miss' stop. This antique bookstore is a treasure trove of vintage books, magazines, posters, and postcards. It's easy to become lost in their vast collection, as hours can slip away unnoticed. But, if your stay in Le Somail is brief, you'll want to save some time for the other gems found here.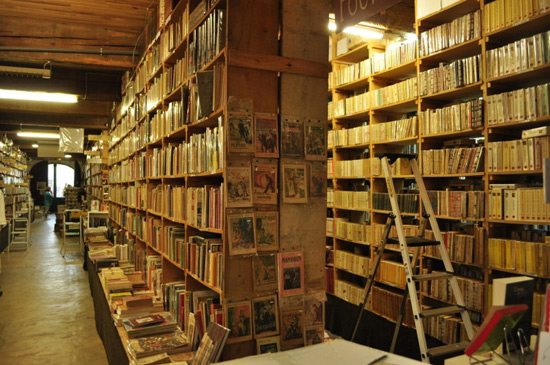 From the bookstore, cross the stone bridge and turn right along the canal, where you will often find renowned artist
Denis Carrière
working at his easel. His paintings beautifully reflect the local color of life along the Canal du Midi. Denis' work is available for purchase in his gallery (or
online
) — what a perfect gift or souvenir of your week on the canal.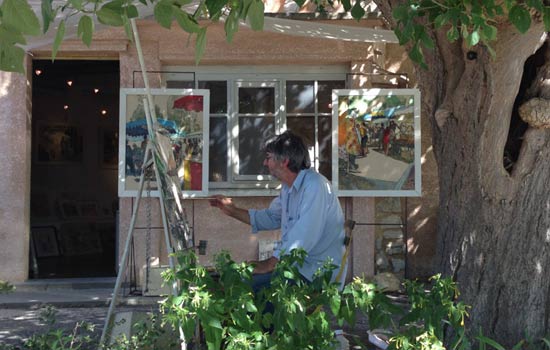 Denis Carrière
Paintings by Denis Carrière
Should all of your exploration around the village have worked up an appetite, Le Somail offers several choices for catching a bite to eat.
Le Somail Rive Droite
Le Comptoir Nature
Chemin de Halage, 1, 11120 Le Somail, France / 04 68 46 01 61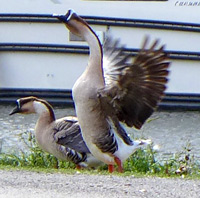 This restaurant is a favorite of foodies who come here to enjoy the best locally sourced organic meats and produce the area has to offer. All meals are freshly prepared by Le Comptoir Nature's four local French women chefs, using ingredients procured daily: daurade picked up at the Narbonne fish market,
magret de canard
, lamb, and pork from farmers in the nearby Pyrenees, and wonderful fresh seasonal vegetables. There is even a vegetarian plate on the menu, a rarity in these parts. The artisanal ice cream is made from ewe's milk - delicious! Le Comptoir Nature offers a selection of fine organic wines. Enjoy a bottle to accompany your meal, or sip a glass sitting at one of their small tables alongside the canal, watching the barge traffic and being entertained by the geese and ducks all around. Jazz ensembles or a funky brass band perform on Wednesday and Friday evenings, making for great fun. Prices are very affordable with 3- and 4-course meals ranging from €17.50 to €32.
L'Auberge du Somail
Chemin de Halage, 1, 11120 Le Somail, France / 04 68 70 71 02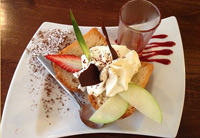 L'Auberge is the 'new' restaurant in Le Somail, having opened with its current owners two years ago. Locals often come here for birthday celebrations or other special occasions. It offers an elegant dining room and an outdoor canal-side terrace. The chef here draws from Languedoc's proximity to Spain, borrowing several dishes from the Spanish, such as
paella
and
gaspacho
. There are plenty of typically French favorites, too: a delicious melted goat cheese salad,
foie gras
, and a homemade
cassoulet
among them. This is the only restaurant in Le Somail that offers this succulent and rich regional dish made with white beans and duck confit. There is great debate as to exactly where
cassoulet
originated. Carcassonne, Castelnaudary and Toulouse all claim ownership, and there is a confrerie of cassoulet chefs still arguing over the recipe and it's origin. One thing that is agreed on is that the beans have to be AOC from the Aude region. Prices range from €23 to €25 for a three course menu, or order a la carte from their large selection.
Le Somail Rive Gauche
Le Plan B
135, Rue de la Bergerie, 11120 Le Somail, France / 06 71 88 41 48
Located a bit off the beaten path, and away from the bustle of canal boat traffic and honking geese, you will find complete tranquility in the shaded courtyard of this B&B and restaurant. Once a shepherd's domaine, you can enjoy drinks and tapas under the trees, or visit the piano bar inside the converted barn. The owner offers simple family style cuisine for meals from a
table d'hôte
menu. Le Plan B provides a very relaxing atmosphere for aperitifs or after hours drinks, especially convenient if sleeping in one of the adjacent B&B rooms of the main house.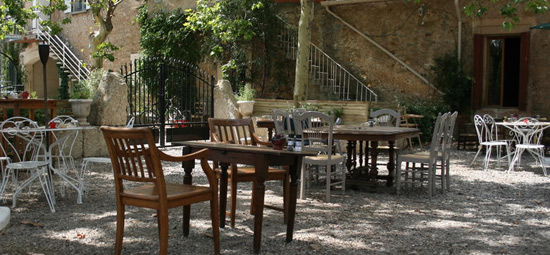 L'O à la Bouche
Allee des Cypres, 11120 Le Somail, France / 04.68.46.00.09
The huge shaded terrace at this brasserie is right on the canal and open all day. A festive trendy atmosphere is provided by these young restaurateurs from nearby Narbonne. It is THE place to meet friends for a few beers, or to sip chilled rosé while watching the barge traffic. The stone canal bridge often proves challenging to those piloting small rental boats, who negotiate the underpass with quite a lot of shouting and bumping - excitement guaranteed. The chef doles out fancy plates, specializing in Mediterranean seafood, and
les frites
(French fries) are freshly made in-house. Tables are nearly always full at meal time with menus ranging from €21 to €29.
Le Somail B&B Barge
Bateau Mariance B&B
Allée des Cyprès, 11120 Le Somail, France / 06 33 69 01 06
For those who do not have an entire week to spend on a barge cruise, a perfect solution may be this pretty and well maintained Dutch barge, converted to a B&B by owner Mariance. It stays moored in one spot, and provides a great base from which to explore the surrounding area. Bookings are available by the night for a single cabin, or your group could rent all three cabins and have the barge to yourselves. There is a spacious living/dining area, tree shaded deck, and Wifi throughout the barge. This is a favorite stop-over for bicyclists riding along the canal, with access to hot showers, comfortable beds, and a meal cooked up by Mariance, featuring specialties from her native Madagascar. Highly recommended by BHB.
Learn more about cruises aboard Barge Tango on Canal du Midi that include a visit to Le Somail at
Canals of France
.